Richard Gere
: not one of my favourite actors, I'm afraid. We were talking about him a while ago when he was touring India telling truckers to use condoms to prevent AIDS. A friend of mine said "When has he ever been good in a movie?" which led forth the litany of Planet Normal classics such as
Pretty Woman
,
Runaway Bride
and
An Officer and a Gentleman
, ego trips like
Red Corner
(the ultimate Rice King film, by the way) and him running around in diapers in
King David
, interchangeable mock-Euro pretty-people-love-triangle melodramas like
Intersection
and
Unfaithful
, his Belfast Lucky Charms accent in
The Jackal
...
But he's been very good a couple of times.
The movie that made the best use of him in his tousle-haired Soloflex Adonis prime was Jim McBride's
Breathless
- the 80's reverse polarity remake of Godard's
A Bout De Souffle
. They had a field day mocking this film at the time, but have you seen it lately? It's right up there with
Miami Vice
,
Scarface
and
To Live and Die in L.A.
in terms of oozing top notch Trashy Eighties Chic (with production design by Richard Sylbert no less!); it's a film as emblematic of its era as the original, in retrospect (McBride also directed another now-obscure but excellent genre-bender: 1967's
David Holzman's Diary
). Gere is a very compelling hustler, a dim sociopath here for a good time but not a long time, as they say...and the chemistry he has with the young French actress Valerie Kaprisky is what we go to the movies for...at least that's how I felt when I saw it as a teenager (it didn't hurt on some subconscious level that Kaprisky kept cooing the name 'Jesse'). MGM dumped it out on DVD in a full-frame transfer some time ago and it deserves a proper reappraisal, as I'm sure it has achieved in France...
Gere's other great performance is in Mike Figgis'
Internal Affairs
(1990) as another psychopath, this one operating under the guise of authority as a cop who presides over an incredible syndicate of hidden corruption. He's a sleazy manipulator in the film, his potency confirmed by his brood of children sired by different women who all form a sprawling suburban coven clearly under his implicit control, like pretty much every other person who gets near him. He throws off an investigation by Andy Garcia's dogged cop by driving him crazy with quite plausible insinuations he's screwing his wife, manipulating Garcia right down Othello Road. Even the sight of Gere's smirky good looks perceptibly going to seed just deepens the portrayal of moral rot on display here. The end of the film reeks of a reshoot, but whenever it's on TV I tune in to watch most of it...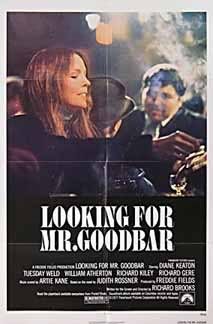 He wasn't bad as the showoffy attorney in
Primal Fear
which is one of those "Sort of want to see this, but why should I rent this film when it will be the NBC Sunday Night Movie a couple of years from now for free?" films - Norton's performance is the one people remember but Gere was pretty good too. He was fine in
Days of Heaven
as well. Haven't actually seen
American Gigolo
but probably should. And when's
Looking For Mr. Goodbar
coming out on DVD?